---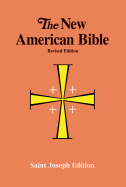 Brief Description:
Ideal for school or home use, this handsome Bible contains many distinguishing features that enable the reader to better understand and appreciate the Bible. Over 70 photographs.

Presentation page
Maps
Dictionary
Footnotes
Doctrinal index
Liturgical index
70+ photos
Maps
Cross-references
Indexable
Imprintable
6 1/2 x 9 1/4 % Font size: 10

Marc Notes:
Authorized by the Board of Trustees of the Confraternity of Christian Doctrine and approved by the Administrative Committee/Board of the National Conference of Catholic Bishops and the United States Catholic Conference.; With many helps for Bible reading: Vatican II Constitution on Divine Revelation; how to read the Bible; historical survey of the lands of the Bible; Bible dictionary; liturgical index of Sunday readings; doctrinal Bible index; and over 50 photographs and maps of the Holy Land..